Prove Mitt's not a unicorn, group says in satirizing 'birthers'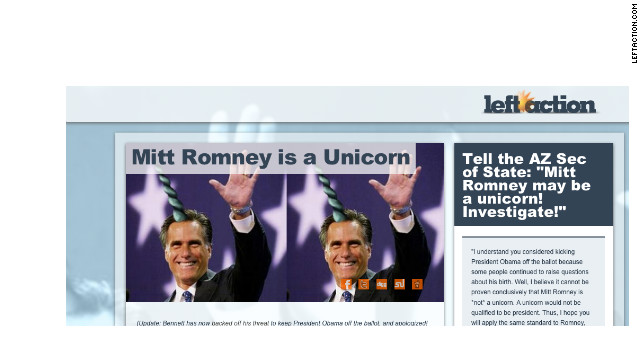 Washington (CNN) -- Call them "unicorners." A liberal group says it has collected more than 19,000 e-mails requesting Arizona officials to confirm Mitt Romney is not a unicorn.
Without such proof, the group Left Action argues with tongue in cheek, Romney may indeed be a unicorn -- his dark mane hiding a horn -- and therefore ineligible to be on the presidential ballot in November.
The farcical campaign mimics efforts by so-called "birthers," and some top supporters of certain Republican presidential nominee Mitt Romney, to continually raise the already-settled issue of whether President Barack Obama meets the Constitution's requirements for citizenship.
More
http://www.cnn.com/2...corn/index.html