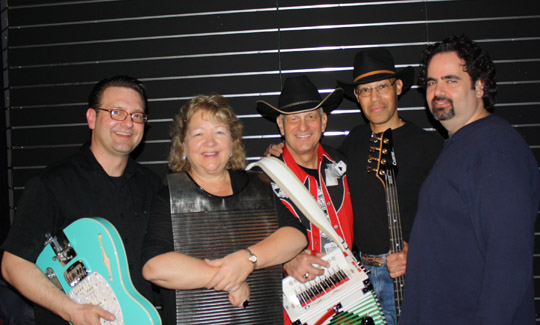 Friday May 3, 2013 Johnny Ace & Sidewalk Zydeco
"Great Dance Grooves"
and "A Joie de Vivre Attitude"
Johnny Ace & Sidewalk Zydeco have been playing together since September 2006. The band has repeatedly received "Highly recommended" ratings from Time Out NY magazine for it's NYC Let's Zydeco shows, and has also been highlighted in The New Yorker.
A quote from Steve Riley: "Johnny Ace and Sidewalk Zydeco are one of the hottest up and coming groups in Zydeco music outside of south LA! These guys have been listening to and studying Cajun and Zydeco music for years and truly capture the essence of what Zydeco music is about. Great energy, very danceable, solid rhythm, and the laissez les bon temps roulez attitude that makes audiences feel good... These guys love Zydeco music and that comes across in their live performances and "joie de vivre" attitude! NE Zydeco at its finest!"

Connolly's on 45th, 121 West 45th (between 6th & Broadway)
Doors Open 6:30 PM for dinner, drinks or socializing
Dance lesson 7:00PM
Show 8:30 - 12:00
Admission $22
ABOUT THE VENUE - Connolly's, at 121 West 45th (between 6th & Broadway) – 3rd floor, has a tasty, varied, and reasonably priced dinner menu, a full bar, a beautiful sprung wooden dance floor and a recording studio quality sound system.
ABOUT THE CROWD - The popular LETS ZYDECO shows are friendly community events, set up for dancing, socializing or listening. We welcome all people who enjoy Live Louisiana Music.
ABOUT THE STEPS- Want to learn some new steps? A complimentary dance workshop is provided prior to the music for those interested in learning the basic dance steps. You do not need a partner to participate.
PARKING INFO- Connolly's is 1/2 block east of Times Square. There is 6-hour metered parking on Friday and Saturday evenings. There is an inexpensive garage - the Edison / Hippodrome Garage on 44th street between 5th and 6th Ave. Rates are $17 for the entire evening (up to 12 hours) on Fridays/Saturdays and only $12 on Sundays.
Sign up for email updates by emailing zydecolaura@hotmail.com, or for more info, call (212) 685-7597.
I'll be handling bass duty for the evening. Please come and check this event out!