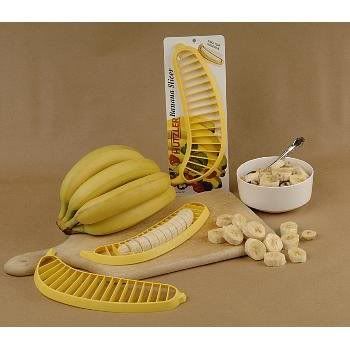 http://www.amazon.co...howViewpoints=1
"What can I say about the 571B Banana Slicer that hasn't already been said about the wheel, penicillin, or the iPhone.... this is one of the greatest inventions of all time. My husband and I would argue constantly over who had to cut the day's banana slices. It's one of those chores NO ONE wants to do! You know, the old "I spent the entire day rearing OUR children, maybe YOU can pitch in a little and cut these bananas?" and of course, "You think I have the energy to slave over your damn bananas? I worked a 12 hour shift just to come home to THIS?!" These are the things that can destroy an entire relationship. It got to the point where our children could sense the tension. The minute I heard our 6-year-old girl in her bedroom, re-enacting our daily banana fight with her Barbie dolls, I knew we had to make a change. That's when I found the 571B Banana Slicer. Our marriage has never been healthier, AND we've even incorporated it into our lovemaking. THANKS 571B BANANA SLICER!"
"As you may or may not know, I have 27 trained monkeys I use to do my evil bidding. Well, the younger monkeys teeth have not fully developed and so slicing a banana to feed them is a necessary chore. The adult monkeys used to have to chew up bananas and feed their young but not anymore with the Victorio Kitchen Products 571B Banana Slicer. The adults are going bananas over this time saving easy product. No longer so they have to taste and chew the deliciousness banana without eating it teasing them like a teenage prom date.
Now, they can eat and enjoy while i feed the young by slicing the bananas into small pieces that's easy for them to digest, This product is aces in my book and if you have 27 trained monkeys that will help you take over the land of OZ, i highly recommenced this product. This product is more useful than a barrel of monkeys"
"I tried the banana slicer and found it unacceptable. As shown in the picture, the slices is curved from left to right. All of my bananas are bent the other way. "